May is an exciting time of year when things really start to 'get going' in the garden.
May can be one of the driest months of the year so you need to take care not to let seedlings dry out. Also make sure that fruit bushes and trees that are setting fruit are well watered at the roots.
May is also often one of the sunniest months of the year but it can be a very changeable month with temperatures rising and falling quickly. Frosts may still be likely in some areas although the risk does decrease at the end of the month.
Ventilate the greenhouse in the daytime to prevent temperatures becoming too high when it is sunny.
The difference in temperatures between inside a greenhouse and outside can be fairly extreme so it is important to harden off and plants that have been raised indoors before planting outside in beds. The principle is to expose plants to conditions outdoors gradually so they acclimatise to outdoor conditions. This is called hardening off see gardening techniques on the website.
I've added the list of gardening activity suggestions for May to the website.
Click here
As usual if you have any other suggestions please post them in the comments area here.
For links to the complete gardening calendar click here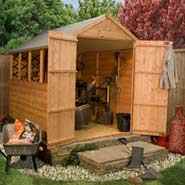 On another note if you are thinking of adding a shed to your plot check out this website before buying as they offer some very cost effective solutions. Click here for more information about choosing a shed.